President's Message
Contribution to Academic Culture through Printing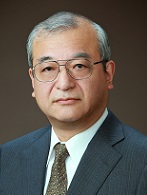 Nakanishi Printing Company has a very long history, having been in business since the age of wood-block printing in the late Edo period.
Of course, we don't simply rely on the advantage of our heritage. We have been able to maintain a long-established business not only by adhering to precepts handed down by our forefathers but by adapting to the trends of the time. We are the only company that has experienced four different printing methods: wood-block, typographic, planographic and digital printing. Our historical documents show that we adopted each new method ahead of the turning point. Among recent developments, we made our full-scale entry into online journals in 1999 as a frontrunner. Now, we achieve unrivaled results in the online journal market in Japan.
If necessary, we even go beyond the conventional definition of printing. For example, we have remained engaged in the commission business of academic society office work for over 30 years. Currently, we are expanding our business into peer review management and publication.
We have an abiding belief which supports our tradition of innovation. It's expressed in our company creed: "Contribution to Academic Culture through Printing." The development of academic culture requires involvement in many peripheral works including printing. We would like to be of assistance in these works. We hope to become an essential foundation for developing academic culture. Our advanced works concerning printing and the expansion of our academic-related businesses are for that purpose.
However, we will also continue to be a printing company in the future. It's a source of great strength and pride that we maintain a domain of high quality and the reliability that is essential for academic print. We will still continue to develop. As long as there is no end of academic culture, there will be no end to our development.
Business Domain
Company name:Nakanishi Printing Company
Head Office

Post code:602-8048
Address:146 Nishioji-machi, Shimodachiuri-dori, Ogawa Higashi-iru, Kamigyo-ku, Kyoto
Phone:+81-75-441-3155
Fax:+81-75-417-2050 (Sales business department)
Fax:+81-75-441-3159 (General affairs department)
E-mail:infos@nacos.com
Tokyo Business Department

Post Code:113-0033
Address:5th Floor, Daigaku Tsushin Kyoiku Building, 2-27-16 Hongo, Bunkyo-ku, Tokyo
Phone:+81-3-3816-0738
FAX:+81-3-3816-0766
E-mail:info_tokyo@nacos.com
Business

・General printing (books, magazines, reports)
・Academic printing (mathematical expression forms, multi-lingual forms, old Chinese character forms)
・Creation of online journals (English, Japanese)
・Registration to PMC, J-STAGE
・Creation of websites and development accompanying various software
・Support for organization and holding of congresses and workshops (development of systems to register speech manuscripts or participation, etc.)
・Administrative services for office works of academic societies and editorial management
Foundation:1865
Establishment of company:16 December, 1953
Capital:40,000,000 yen
Main financing banks:
Kyoto Bank (Fucho-mae branch)
Mizuho Bank (Kyoto Chuo branch)
Sumitomo Mitsui Banking Corporation (Kyoto branch)
The Bank of Mitsubishi UFJ (Demachi branch)
Company Milestones
1865
First president Kasuke Nakanishi demerged from Metoki-ya bookseller.
1870
Established Shoukadoh: book-seller and wood-block printery in Teramachi Rokkaku-Sagaru, Kyoto
1879
Opened Nakanishi hot metal printing office in Takoyakushi-dori, Fuyamachi, owned by Kasuke Nakanishi.
1881
Moved to Higashi Horikawa Oshikoji-sagaru. Became purveyor to Kyoto prefecture office in Nijo-jo at that time.
1885
Moved to present location, Shimodachiuri Ogawa by order because Kyoto prefecture office moved to current site (Shimotachiuri Kamanza). Built new office and factory.
1901
Founder, Kasuke Nakanishi passed away. Established Nakanishi Printing General Partnership Company. Kasuke Nakanishi II assumed 2nd presidency.
1905
Katsutaro Nakanishi assumed 3rd presidency.
1941
Katsutaro Nakanishi II assumed 4th presidency.
1945
The company was active in printing throughout World War II.
1953
Changed organization name to Nakanishi Printing Company, Ltd. Accepted the orders of government and publication printings up to the present.
1968
Built new building (four-story reinforced building)
1969
Toru Nakanishi assumed 5th presidency.
1985
Akira Nakanishi assumed 6th presidency.
1986
Designated "Traditional Company in Kyoto" by Kyoto prefecture.
Adopted computerized typesetting machine. Ongoing focus on extending computer typesetting.
1992
Discontinued hot metal printing completely. Fully dedicated to computer typesetting planographic printing.
1993
Ryutaro Nakanishi assumed 7th presidency.
1996
Launched Internet division. Expanded business to online journals.
1998
Installed fully digital print equipment.
1999
Cooperated with Oxford University Press in England. Opened Tokyo branch.
2003
Discontinued analog equipment completely. Migrated to digital framework, company-wide.
2005
Opened Tokyo office. Became certified company based on Small and Medium Enterprise Management Innovation Support.
2012
Produced the world's first Japanese XML online journal.
2013
Reorganized Tokyo office into Tokyo business department.
2016
Present president Hidehiko Nakanishi assumed 8th presidency.