Our company, Nakanishi Printing is located in Kyoto. Do you know Kyoto? Kyoto is the former capital.
Although Tokyo has been the capital for only 130years, Kyoto had been the capital for over 1000 years.
In Kyoto, Japanese history had been made. Kyoto is a beautiful and famous for sight seeing.
I strongly recommend you visit Kyoto where many temples and historical points remain.
In addition to that Kyoto is a center of culture and learning.
There are a lot of universities and research institutes. So that many publishers and Printers gather in Kyoto.


Our company was founded in 1865 by our ancestor.
The founder was the father of our president's great grand father.
Our ancestors and we have been running the family business for 140 years.
It may be the most traditional printing company in Japan.
Older companies than ours had existed, but now they have disappeared
or have been absorbed by other new big printing companies.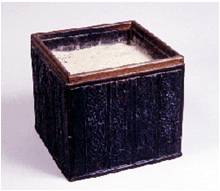 Woodcut printing 19c.
Our first printing method is of course wood cut printing.
Our family legend said that the samurai were fired during the Meiji revolution,
Our founder employed them to engrave woodcut printing plate.
As they had the skill of using swords,
they became accustomed to use engraving cutter.
After that in 1870's, the first revolution of Japanese printing occurred.
It was a hot metal printing system. We used hot metal printing for 100years.
In the 1970's we changed our systems to offset.
In the 1990's we introduce POD (Print on Demand or Degital printing).
I am convinced that there is only one company which has experienced all four printing systems.

Factory in 1960's

First we are good at academic printing, especially old Japanese texts. As in English, and other Languages,
Old Japanese was very different from modern Japanese. Although the demand for old Japanese text is very few,
they are needed in academic fields. We are experienced printers of old Japanese.
Simultaneously we are accustomed to Chinese characters. Though Many Chinese characters are used in modern
Japanese text, original Chinese characters are also different from modern Japanese usage of Chinese character.
A detailed explanation will be on a later part.

And Mathematical language is also a strong point. Moreover we are good at English printing.

Of course Most of the US and UK printers are better at English printing than us., Chinese printers are better at
Chinese printing than us. But Japanese, Chinese, English, all of them can be printed in our factory. It is our
strongest point.
Now we are accustomed to the electronic publishing. We were partner of UK's Oxford University Press. In 1999
we joined in partnership with Oxford, and introduced on-line journal techniques. May be we are the most
experienced On-line journal company in Japan.

Of course, we are experienced POD printers. We introduced the XEROX Docutech POD machine in 1998 We may
have been one of the earliest introducer of POD in JAPAN. Using POD, Many New type books and Magazines have
been made by us. We are expert of POD in Japanese market.

Our strong points are there.
We have experienced traditional academic printings.
As I have explained so far, We have 140 years of tradition in academic printing.
And
We have also POD and Electronic publishing skills.
Now they are integrated.


This is traditional but innovative Nakanishi printing, as you can see on the next photo.

POD AWARD
We received the Grand prize of first On-demand Award in Japan 2000.
The On demand Award in Japan is held annually by CAP ventures. I heard in the US several events have been held like this. In Japan CAP ventures' On-demand Japan is the biggest event. Our status and skill is supported by the reception of this award.
There are so many Chinese characters that it is said to be impossible to print by electronic system. It is believed that manpowered type picking systems were necessary.
Naturally they seemed not to be able to be printed by POD.
But, we have done it.
And Mathematical language is also a strong point. Moreover we are good at English printing.


POD AWARD
Here, I'm going to talk a little bit about Chinese characters.
Chinese characters are famous for living ideograph which have many kinds of characters.
God knows the accurate number of Chinese characters. It is said to the 50000 to 100000. In Japan daily usage
is from 2000 to 3000 characters.
But a very confusing point is that there are different types of characters which have the same meaning in East
Asia. Mainly there are 3.
One type is the most original type used in Taiwan. traditional Chinese characters.
Next is the Japanese type, a simple version of the original Chinese characters.
Its style had been used informally for many long years. But after World War 2 the Japanese government declared
that this type is the formal.
The last one is the simplest type. This is used in Mainland China, People's Republic of China. We said that This is
the red Chinese character.
I would like to emphasize that Nakanishi Printings can handle all type of Chinese character freely. And we can
exchange electronically 3 types of Chinese characters.


Not only Chinese. We are also very good at English printing and Business by English.
You know my English is very poor. But we have many experienced English speaking stuffs who have studied abroad.
Through the Oxford alliance., Our company has had many plentiful experiences working with the English Language
and English speaking people.
This experience is now integrated with our east Asian characters experience.
You can order Japanese and all east Asian printing in English.

Thank you.

Please contact us below.
E-mail:infos@nacos.com